Accessibility and Services
The Municipal Institute for People with Disabilities (IMPD) and the Institute of Culture of Barcelona (ICUB) work together to ensure that all citizens can access to all the cultural events in the city.
Regarding physical accessibility, the suppression of architectural barriers and the incorporation of universal design standards have been present over the years in different museum projects, allowing a high degree of accessibility for people with reduced mobility.
Regarding communication accessibility, over the last years, several material resources have been incorporated into the exhibition halls and, especially in the case of the recently built museums, new systems have been installed that allow people with special needs to access the contents of the exhibitions.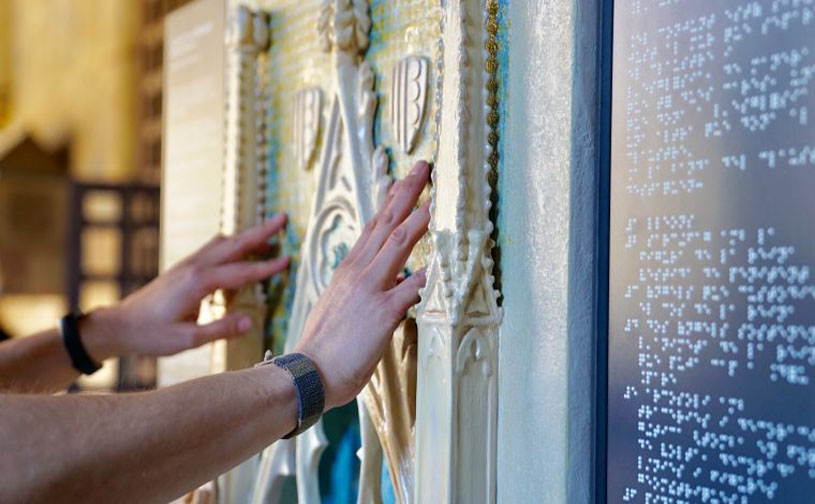 As a result, Barcelona has a wide network of accessible museums that are constantly improving their funds and facilities to adapt to the needs of all people. Regarding the monastery of Pedralbes, the resources available to the museum are the following:
Activities for school groups, for children and for families
Access by lift to the first floor of the cloister
Access ramp at the monastery entrance
Adapted toilets
Audio guides (German, English, Catalan, Spanish, French, Japanese, Dutch, Italian, Portuguese, Russian and Chinese)
Cloakroom service
Conferences, Seminars and Concerts
Guided tours
Guided tours for people with visual, intellectual, hearing or mental disabilities, among others
Information in Catalan, Spanish and English
Materials for the visit
Museum staff trained the area of accessibility and care for people with disabilities
Publications
Wheelchair service
Relief map with Braille for guidance
Tactile 3D model of the cloister for guidance (at the entrance to the cloister), which explains the main characteristics of the building
Tactile 3D model of the tomb of the Queen