Títol
Reopening of the chapel of Sant Miquel: Divine Murals Exhibition
The inauguration of the temporary exhibition "Divine Murals" in the chapter room of the monastery concurs with the reopening of the recently restored Saint Michael's Chapel. The exhibition provides clues to look at the paintings that decorate the space with new eyes through the data collected during the process of restoration and conservation. Thus, "Divine Murals" brings us closer to the artistic and devotional meaning of the chapel and allows us to imagine the impact that people had when they viewed it almost seven hundred years ago. The intervention of the conservators has highlighted the artistic value of one of the most outstanding pictorial sets of the Catalan Gothic that is preserved in the place for which it was conceived.
In 2005, a comprehensive project was designed and started, which envisaged several phases: the first, research and study, had to precede the direct intervention on the murals; The second phase, in 2013, focused on the restoration of the roof, and then, in 2014-2015, a third phase was started focusing on the consolidation and adherence of the paintings to its support, the cleaning and the removal of repainted, and subsequent reintegrations, which allowed the recovery of elements that had been left below, as well as the complete restoration of the central frieze of the chapel. In the final phase, executed between 2017 and 2018, the repaints that covered the original marble masonry paintings were removed, as well as completing the restoration of the other panels in the chapel and reintegrating lost paint with the technique of reglatino al fresco. The chapel of St. Michel finally returns to shine bright.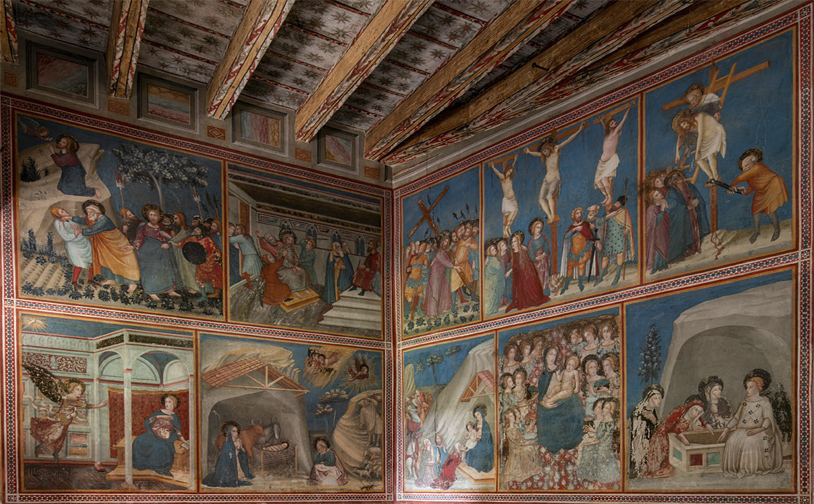 From June 22, the visitor who approaches the monastery will be able to enjoy this 14th-century pictorial jewel made by the Ferrer Bassa's workshop and enjoy it as never before. The most obvious developments that can be contemplated are the recovery of original paint that was hidden under antique prints, and the general change that have undergone murals after the cleaning and removal of various harmful products applied formerly to its surface. Regarding the system for the presentation of murals, the paintings will speak for themselves and the visitor will be able to enjoy this space full of color, light and emotion with the minimum presence of museographic elements. In this way, and with the help of lighting, the visitor can get a better idea of ​​the impact that would have caused in the 14th century to enter this room.
In the chapter room, very close to the chapel, an exhibition will provide information on the paintings and their significance. The conservation and restoration process will also be presented -apart from the cleanliness that is the most visible result of the intervention-, with the removal of plaster pieces removed and the consolidation of internal layers that were quite damaged as well, and also the fixation of the pictorial film that was at risk of breaking off.
You can check the exhibition's room sheet here: