THE LOTUS MOON Art and poetry of a Buddhist nun Ōtagaki Rengetsu (1791-1875)
Ōtagaki Rengetsu, Buddhist nun, martial arts expert, poet, calligrapher, ceramicist and painter, was surely one of the most creative women in 19th century Japan. Adopted at birth in 1791, and given the name Nobu, she received a solid artistic education and had a childhood marked by family suffering. After experiencing the tragic loss of two husbands and four of her children, by age 33 she renounced her secular life and fully embraced Buddhism. It was then when she took the name Rengetsu, literally "Lotus Moon", in order to experience the impermanence of the world through spirituality and artistic experience.
Rengetsu started to make and sell ceramics, to which she added her own waka poems, so that she could live an independent life. However, from the 1850s, and during the last 25 years of her life, Rengetsu produced tens of thousands of pieces which together formed an enormous artistic corpus of ceramics, calligraphy, paintings and work done in collaboration with fellow artists.
From November 19th 2021 until May 29th 2022, thanks to the partnership with the NAEJ Collection, this exhibition presents for the first time to the city and the country the extraordinary life and work of a great Kyoto poet and artist. An example of how art and poetry can become a yearning and also a turning point in the struggle and enjoyment of an ephemeral life.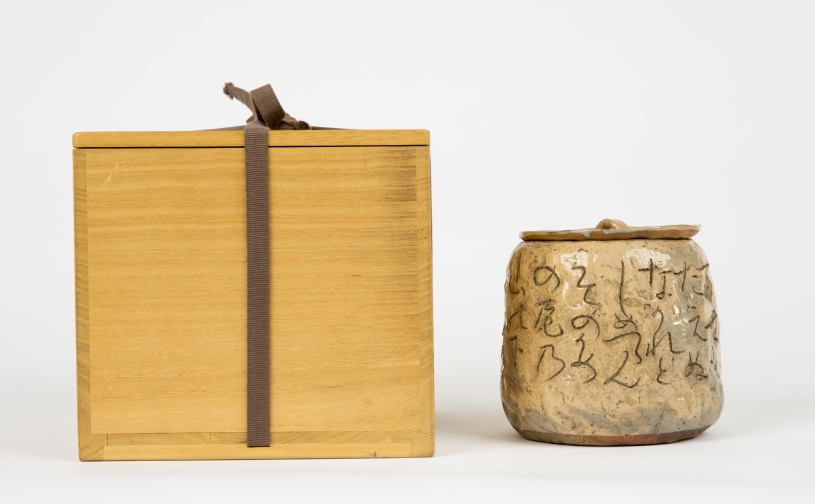 Rengetsu, poet
Rengetsu's poetic work is based on an extensive corpus of waka poetry, poems that follow the pattern of thirty-one syllables, structured following the cadence 5-7-5-7-7. Waka poems have a long history in Japan. Their composition requires a solid literary education, based on the use of complex grammar, as well as historical and literary allusions. The words selected and the phrases constructed have many ways of being interpreted and, from this perspective, their interpretation, and translation, depend on context, mood, feelings expressed, subtleties and the way in which all the elements of the poem relate to one another.
Rengetsu, calligrapher
Ōtagaki Rengetsu is considered one of the foremost female calligraphers in the history of Japanese art, especially for her expressiveness, personality, sensitivity, cleanliness, proportion and the perfect composition of her strokes. Many of Rengetsu's poems are written on tanzaku. It is believed that, during her life, Rengetsu wrote more than 20,000 tanzaku; everyone who visited her took away with them at least one tanzaku, whether they bought one or as a gift for having bought one of her ceramics. Many of these were later mounted onto vertical scrolls in order to be hung and shown in the toko no ma.
Rengetsu, ceramicist
Despite not being a professional ceramicist, Rengetsu created a vast corpus of thousands of ceramics which came from a practice initiated probably in the 1830s in Awataguchi, the main ceramics district of Kyoto. It was there that the basics of the art of ceramics could be observed and learnt. Additionally, to make her ceramics more attractive, to sell them and earn a living, she decided to start decorating them with her own poems, with calligraphy or etched on the surface of bowls, plates, tea pots, censers and all kinds of everyday objects, as well as for the ceremonial practices of cha-no-yu and sencha.
Rengetsu, painter
Beyond ceramics, the art of calligraphy and poetic composition, Rengetsu also produced some paintings on paper. In these cases, they were paintings made to accompany and illustrate some of her calligraphy poems. The style of these paintings, learnt in an amateur way, came close to that of the artists from the Shijō school of Kyoto and was characterised by simple compositions representing everyday objects, though, on occasion, more complex scenes were painted. More often, however, Rengetsu worked with professional artists creating works of great sensitivity and quality, principally with painters in Kyoto.