Títol
Life or Theater? Charlotte Salomon (Berlin 1917 - Auschwitz 1943)
Charlotte Salomon (1917-1943), Jewish artist, was only twenty-six years old when she was deported and exterminated in Auschwitz. Her life, short but intense, was marked by love, death and a family history of suffering that led her to take refuge in art as a cathartic and salvation path. Through the 782 gouaches that make up the exceptional work Life? or theater ? -a wide selection of which is presented in this exhibition-, Charlotte Salomon sought to describe her life to find herself, to overcome the past and to try to live an ephemeral present on the eve of the Holocaust.
The exhibition: Life? or Theater? Charlotte Salomon. Berlin, 1917 - Auschwitz, 1943 will take place at the Royal Monastery of Santa Maria de Pedralbes from October 17, 2018 until February 17, 2019, curated by Ricard Bru, doctor in History of Art and Professor of the Department of Art and Musicology of the Universitat Autònoma de Barcelona, ​​in collaboration with the Jewish Historical Museum in Amsterdam.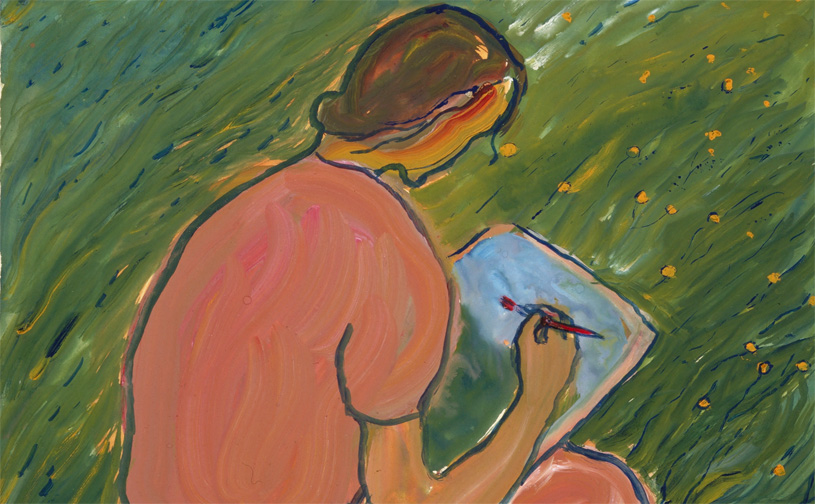 The conceptual script of the exhibition fits in the program of the Monastery of Pedralbes, one of the main lines of research of which is the dissemination of gender and spirituality studies, especially of silenced women. From this point of view, the exhibition: "Life? or Theater? Charlotte Salomon. Berlin, 1917 - Auschwitz, 1943 "presents the unique work of an artist denied and forgotten until a few decades ago, which, nevertheless, is the vivid, intense and evocative reflection of an entire age.
Life or theater? is a true work of total art where painting, theater, literature and music come together. It is a dramatic and structured autobiography as if it were a theatrical work or a musical comedy divided into three acts (prologue, body and epilogue), where the names of the characters are slightly altered to reality and with fictitious elements that transform the vital experience of the artist in a dramatic, cathartic and redeeming story. Life or theater?  is made up of 782 gouaches, of which 237 will be presented to the Monastery of Pedralbes. The work, full of references to operas, melodies and popular songs, illustrates the passion for music and its formal conception seems inspired by the cinematographic language. At the same time, in many of the scenes, Charlotte Salomon overlaid transparencies with comments, dialogues and descriptions that help us to understand the whole story narrative. Thus, she achieved a unique, ambitious and moving work of art that combined image with music and words in order to become a unique artistic contribution to the cultural memory of 20th century Europe.
You can see the complete work at the following link: https://charlotte.jck.nl/collection/specials/charlotte-salomon
Below you will find a list of texts to follow the exhibition: